» home «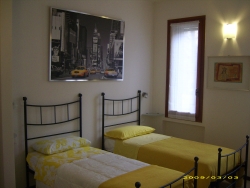 Apollo bed & breakfast - Bologna

Our bed and breakfast enjoys an excellent position in a residential area at 20 minutes walk from the centre of Bologna. Is connected by bus (the stop at 20 meters) directly to Train Station (25 minutes), to the Fair (35 minutes) to the Maggiore Hospital (10 minutes) to the Downtown area of Via D'Azeglio and 2 Towers (10 minutes). 10 minutes by walk from the Teatro Celebrazioni and 5 minutes by car from the Rizzoli Hospital

The B & B Apollo is an excellent solution for people stopping in Bologna for business but also for those visiting the city (the portico of San Luca reachable in 10 minutes on foot) or enjoying the evening at nightclubs and pubs offering the city without the tranquillity of the area where it resides.

Located on the upper ground floor, just built Apollo b&b enjoys a pleasant double room with private bathroom, which is adapted to use single or triple double (with the addition of a bed).